Remembering Home, Preserving Identity
Life in Zedelgem POW Camp 2227

Masthead of the Latvian soldiers' newspaper in Zedelgem POW Camp,
Laika Griežos
(Through the Times)
in mimeograph purple.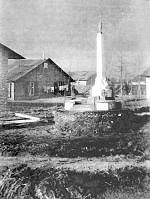 Freedom Monument replica erected by Legionnaires
Wherever Latvians found themselves at the close of World War II, whatever the circumstances, they built a community founded on the memory of their homeland. For themselves, it was to not lose their sense of self, to strive for more than mere survival. For their children, it was to preserve, to nurture, to pass on what it meant to be Latvian—undiluted by the passage of time or distance from home.
The inmates of "Hotel Zedelgem"[1] were no different. Latvians published their own newsletter, created arts and crafts, formed a choir, founded their self-help welfare group still active today, the Daugavas Vanagi, Hawks of the (River) Daugava, and even erected a replica of their icon of Latvian independence, the Brīvīvības Piemineklis, Freedom Monument.
---
| | |
| --- | --- |
| [1] | Hotel Zedelgem actually referred to Zedelgem Camp 2375, whose prisoner accommodations consisted of tents. |